20. 05. 2021.
Organic Energy Healing and Yoga Retreat in Montenegro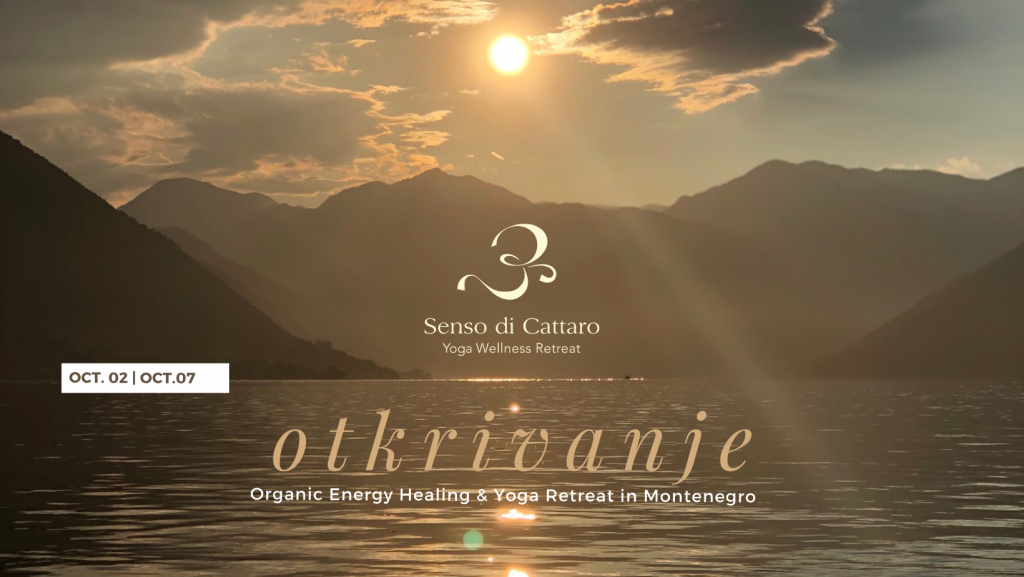 Spring 2022
Retreat held in Serbian/ English Languages
REVEALING
Reveal your Higher Self and the Essence of Your Inner Happiness
We have prepared a unique program of deep but at the same time gentle energy work, everyday yoga classes with the best views of the Bay, meditations of unconditional love and of grounding, insightful workshops, group as well as private Healing sessions with Gaia Waves energy, and to crown it all, we will have a Grounding group workshop, which will help you to apply and live changes here and now in the physical reality, and that is the biggest step.
After a year of global "pause" created by the Covid-19 pandemic and introspection in which humanity was learning the virtue of compassion, the year 2021 is brewing changes, bringing questions regarding personal freedom, our essential happiness, the birth of a new world and a new self in it.
It is a lot to take in and it is the time to sum up what has happened so far and where it is taking us. We are standing on the thresholds of history again and it is our task to adjust our beliefs and learn more then ever before how to go with the flow of events and experiences, to learn to be more flexible than usual. We have to allow our brains to rewire, so we can do that flawlessly.
Our topics today are finding a greater balance, especially between our own needs and the needs of others, between people living together at home, and all beings on the planet. And in order to do that, we first need to understand who we are today, at this moment, how the experience of the pandemic and everything that was imposed upon us as a result impacted us. Let's reveal who we are and what our wishes are for this new life.
June is not only half of the year, but also the beginning of summer, when all senses wake up, and mostly these are senses of enjoyment. So give yourself some time to enjoy, reveal your true happiness and become your higher self.
MAIN EVENTS:
Check-in is all day between 09:00 and 22:00;
The retreat will begin with an opening circle in the evening of the Arrival Day for all participants to meet and introduce themselves taking into consideration the current measures against Covid-19 off course. We will perform a Native American Ceremonial Introduction;
Daily Yoga Classes;
Group Theta Healing Event;
Reiki New Moon Meditation;
Closing Circle;
Group workshops will take all other evenings for around 1,5 hours.
Check-out is until 12:00 on Departure Day, after morning yoga class and breakfast.
TYPICAL DAY:
8:00
Daily unconditional love and healing energy meditation;
8:15 – 9:30
Daily Yoga Class;
9:30 – 10:30
Breakfast;
10:30 – 13:00
Free time to get a massage or a private therapy (one included in the price),
explore, walk, hike, kayak, SUP, swim, lounge, visit all town, etc.
13:00 – 14:00
Lunch time
14:00 – 17:00
Free time to get a massage or a private therapy (one included in the price),
explore, walk, hike, kayak, SUP, swim, lounge, visit all town, etc.
17:00 – 19:00
Evening Session ending with grounding Meditation
(this time varies depending on the event)
19:00 – 20:30 pm
Dinner time
20:30 – 10 pm
Tea time story
10 pm
End of Day
PRICES:
Prices start from as little as €640 depending on accommodation.
Breakfast is included, half-board is included €25, full-board €40
For all your options and prices, please enquire to info@sensodicattaro.com
WHAT IS INCLUDED:
Each rate includes the following:
– accommodation in a beautiful boutique hotel. Please choose your preferred room. All rooms and suites are different, so please book early in order to have a better choice;
– Daily breakfast;
– Herbal teas and drinking water;
– Opening welcome and meeting circle;
– Daily morning yoga practice;
– 4 evening Workshops,
– 1 kundalini kriya or restorative yoga class;
– Reiki New Moon Meditation, using full moon energy for creating a vision (10th June and 02nd October);
– Closing Ceremony;
– 1 private 60-minute therapy or massage;
– Yoga mats, bolsters, blocks and straps;
– Access to a small gym with exercise equipment, treadmill, exercise stepper and pilates balls;
– Free access to sauna, hotel's beach with sun beds;
– All hotel facilities, such as towels, beach towels, hotel toiletries, bed-linen, hairdryers, WiFi, etc.
– Daily cleaning;
NOT INCLUDED IN THE PRICE:
– Flights;
– Airport transfers;
– Additional Nights;
– Lunch and Dinner (half and full board can be arranged directly with the Venue);
– Additional private Theta Healing Sessions;
– Additional private Massage Therapies;
– Additional private Reiki Sessions;
– Restaurant meals;
– Excursions;
– Alcoholic drinks;
– Extra Services;
– Daily Tourist Tax of €1.5 per person.
Guests can also enjoy:
10% discount on all additional spa and massage treatments
ACCOMMODATION:
Particiapnts can choose one of the 10 rooms in this beautiful boutique hotel. Every room is unique in its own way, individually furnished with antique pieces in style of local interiors. With exposed stone walls and magnificent views over the bay, rooms are filled with spirit and charm, giving you a chance to absorb the distinctive atmosphere of this area and truly relax. Since every room is different, please read carefully before booking. If you need any clarification, we are always available for all your questions.
MEAL OPTIONS:
We have planned quite an intensive week and it would be wise to have half or full board, so you can completely relax and give us the opportunity to totally look after you during this retreat. These are delicious vegetarian meals cooked fresh and prepared by our experienced in-house chefs from seasonal locally grown products. You can also opt for Vegan dishes and we cater for many dietary restrictions.
If you desire, we can also offer detox days with super green juices and tasty smoothy bowls.
If you don't want to commit, you are free to explore local restaurants or eat a la carte in hotel's restaurant.
For all pricing options, please enquire to info@sensodicattaro.com
LOCATION:
Set in the heart of a Natural and Culture-Historical Region of Kotor, this heritage property is just 12km from Tivat International Airport and is easily accessible from other airports.
It is an easy 30 minutes walk along the coastline to the old town of Kotor, UNESCO World Heritage site, where you can explore cobbled streets with many shops, cafes and restaurants. Our gate door lets you out directly to the seafront and if you decide to stay in, you can simply enjoy magical views from the jetty, soak early spring sun and find your inner zen. Apart from the jetty, hotel has a beautiful terrace overlooking the bay, front garden with tables for lunch and dinner, and many more quiet corners.
GETTING HERE:
Nearest airport is Tivat.
From Tivat airport it is only a 20 minute drive to the retreat location. 
Other airports are Podgorica, Capital of Montenegro and Dubrovnik, Croatia. Both around 1,5 hours drive. 
We can organise transfers, call a taxi or book a rent-a-car, depends on your requirements.
Additional charges apply.